Meet Jason Ashman, CTO at CaringWays®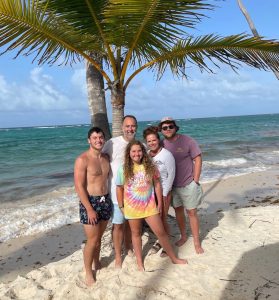 A strong work ethic and a caring nature. Those are two attributes that Jason Ashman comes by honestly, and they show through in everything he does.
 Jason was born in northern Indiana, and his family moved to the Nashville area when he was in the sixth grade. But his formative years were spent on his grandparents' farm in Indiana. The time spent with his grandfather and grandmother had a lasting impact on his view of hard work and community. 
"I got a chance to see how much work he put in around the farm. Usually starting before sunrise and not finishing up until after dark. But at the same time I got a chance to see how he always made time for others. Whether it was daily making sure he was there for meals with everyone or watching his grandkids play sports. He and my grandmother would make the eight hour drive down here to Tennessee to watch me play and drive back the next day. He always made sure to put people first in all he did."
Jason says farming communities are close-knit, and when his uncle passed away suddenly, fellow farmers showed up in an amazing way to help his grandfather. 
"Fifteen to twenty farmers showed up with their combines and went from corn field to corn field, harvesting the whole crop." 
Jason formed his own tight-knit community when he moved to Nashville, and he still enjoys friendships today that he formed in middle school and high school. He and his wife, A'lyce, were even high school sweethearts and are now celebrating 25 years together along with their three kids. During high school, A'lyce's dad was diagnosed with stage 4 non-Hodgkin's lymphoma. Once again, Jason witnessed friends and the community rally around the family during the difficult time. He also noticed how difficult it can be for a family to get the help they need.
"I really saw that people wanted to help, but they didn't know what to do. The question 'How can I help?' actually put the burden back on my wife's family to come up with ways for them to help."
Jason says that people wanting to help will usually bring a meal. But during a medical crisis, so many things are out of your control that you have no choice over. One way to help someone is actually by giving them the freedom of choice, which is what the CaringWays® platform is all about. 
If the platform (CaringWays®) had been around back when A'lyce's dad got sick, things would've been much more manageable for her family, for so many reasons.
"To give someone choice back in their life, even if it's something as simple as 'I'm hungry for this' or 'I would like to do this' and be able to use the funds raised through CaringWays®, it really is a game changer. If the platform had been around back when A'lyce's dad got sick, things would've been much more manageable for her family, for so many reasons."
Jason's father-in-law eventually recovered from his illness. Witnessing everything that unfolded during that time stuck with Jason. Throughout his life, Jason has seen the power of community and the importance of showing up for the people you love. He says it's all led him to where he is now, serving as CTO for CaringWays®. But he also wants to use his experiences to propel CaringWays® into the future and further expand its reach.
Many of us have a built-in network of family and friends to help us through challenging times, but there are a lot of people out there who don't.
"Many of us have a built-in network of family and friends to help us through challenging times, but there are a lot of people out there who don't. We've got an opportunity with CaringWays® to fill the gap, to find people in need of support and build them a community through our platform."